Link Mobile Number with Aadhar Card: The Aadhaar system provides single-source offline/online identity verification across the country for the residents. Once residents enrol, they can use their Aadhaar number to authenticate and establish their identity multiple times using electronic means or through offline verification, as the case may be. So to ensure security and confidentiality of identity information and authentication records of individuals. And to ensure compliance with the Aadhaar Act by all individuals and agencies in letter and spirit. To make regulations & rules consistent with the Aadhaar Act, for carrying out the provisions of the Aadhaar Act. aadhar card link with mobile number
In Hindi:
आधार प्रणाली निवासियों के लिए पूरे देश में एकल-स्रोत ऑफ़लाइन/ऑनलाइन पहचान सत्यापन प्रदान करती है। एक बार निवासियों का नामांकन हो जाने पर, वे इलेक्ट्रॉनिक माध्यमों का उपयोग करके या ऑफ़लाइन सत्यापन के माध्यम से, जैसा भी मामला हो, कई बार अपनी पहचान प्रमाणित करने और स्थापित करने के लिए अपने आधार नंबर का उपयोग कर सकते हैं। व्यक्तियों की पहचान की जानकारी और प्रमाणीकरण रिकॉर्ड की सुरक्षा और गोपनीयता सुनिश्चित करने के लिए। सभी व्यक्तियों और एजेंसियों द्वारा आधार अधिनियम का अक्षरश: अनुपालन सुनिश्चित करना। आधार अधिनियम के प्रावधानों को लागू करने के लिए नियमों और नियमों को आधार अधिनियम के अनुरूप बनाना। aadhar card link with mobile number change
Linking Aadhaar with SIM for New Users
Users who wanted a new SIM needed to visit the nearest store of their mobile operators like Vodafone, Idea, etc. to get a new SIM with Aadhaar. Here are the steps that had to be followed for completing this process.
Visit the mobile operator's store
Request for a new SIM
Provide a copy of Aadhar for ID proof and address proof
Use the Biometric Scanner to scan fingerprints and verify Aadhar
A new SIM would be issued after completion of the verification process
SIM would be activated approximately in an hour
Also, Read- Update Mobile Number in Aadhar Card, How to Update through Online/Offline, With & Without OTP… Read More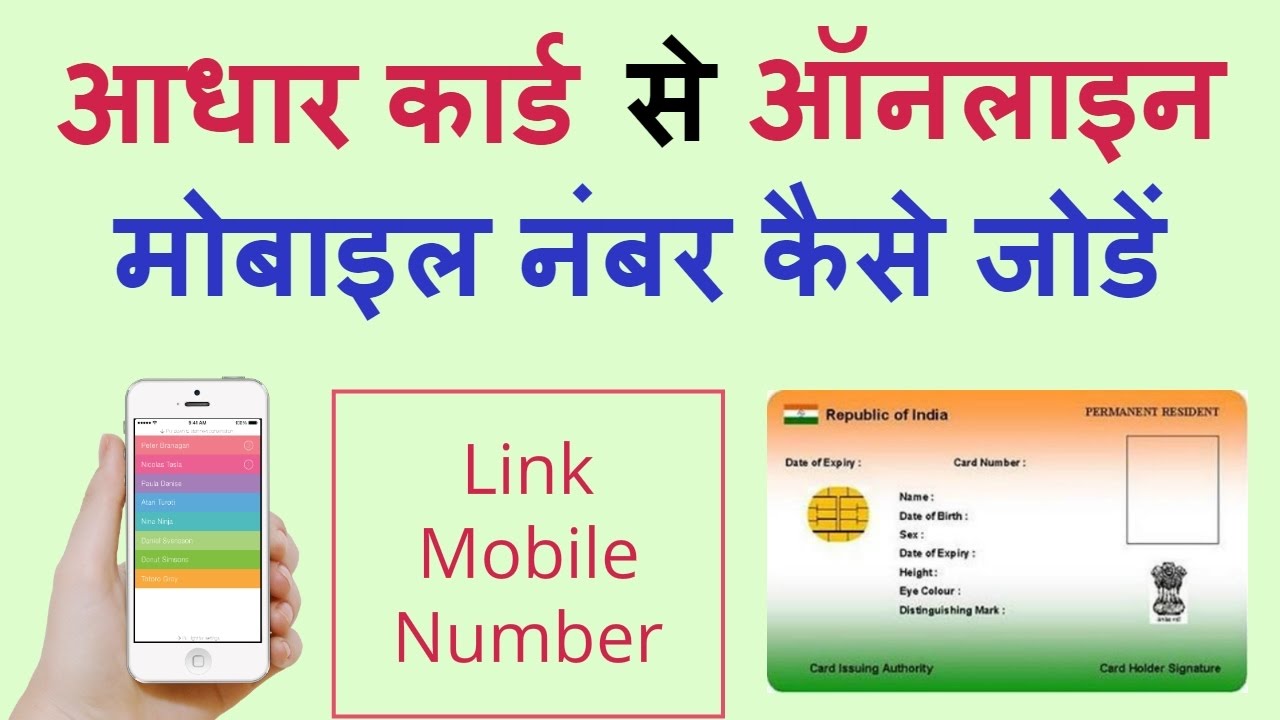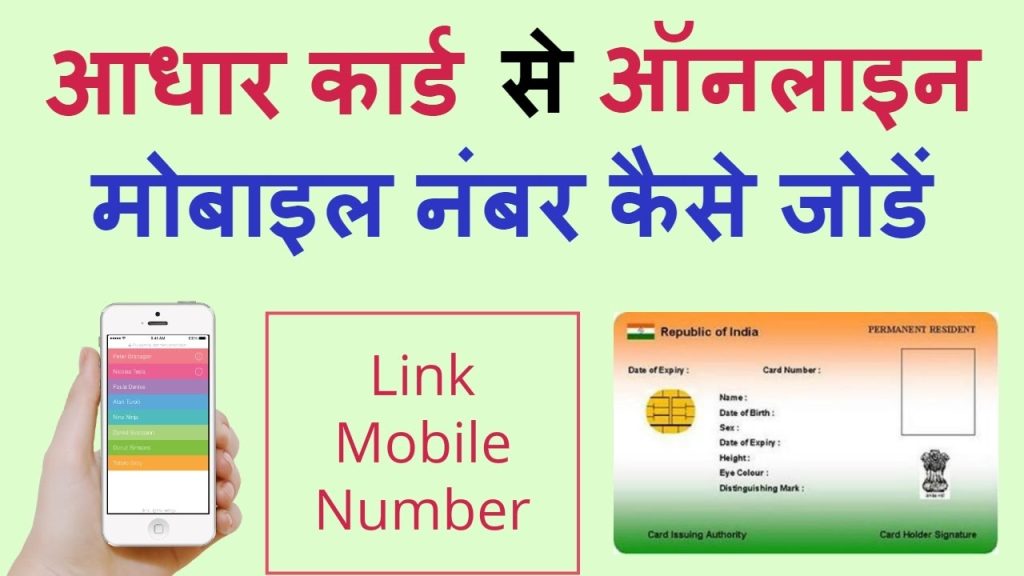 Verify Mobile Number with Aadhaar Through OTP
The OTP-based method was used to verify mobile numbers online and offline. Although in both methods, the subscribers would receive an OTP on the registered mobile number. Below-mentioned is both methods.
Online Method
Using this method subscribers could complete the linking process sitting in the comforts of home. Given below is the step-by-step procedure of linking:
Visit the telecom operator's website
Enter the mobile number to be linked, verified or re-verified with Aadhaar
OTP sent to the registered mobile number
Enter OTP and click on "Submit" to proceed further
A consent message would then be displayed on the screen. The 12-digit Aadhaar number to be linked had to be entered
A message would then be sent by the telecom operator for OTP generation
The user would then receive a consent message about the e-KYC details
The user had to accept all the terms and conditions and enter the OTP
Then on completing this, a confirmation message about the Aadhaar and phone number re-verification was sent
Offline Method
There were two offline methods to verify the mobile numbers with Aadhaar:
SMS based verification
Verification through IVR.
Useful Links:
NSP Scholarship Last Date 2022, My Number Location, Full Form of Jio, Mangal Typing Test, CSC Register, How to Get Aadhar Card, NSP Scholarship Last Date 2022, How to Contact Kapil Sharma.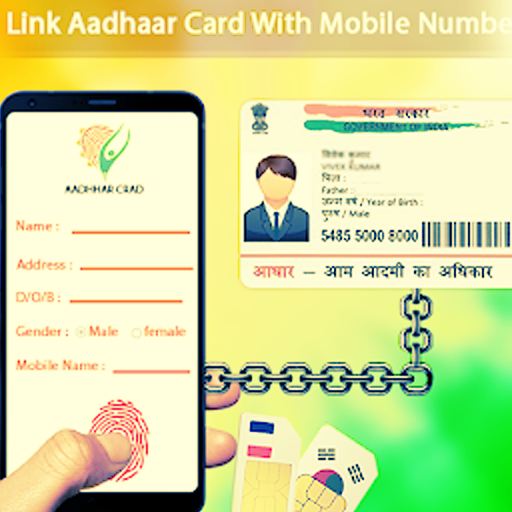 SMS Based on Aadhaar and SIM Card Verification by Using OTP
Below-mentioned were the steps to re-verify the mobile number with Aadhaar by visiting a store and sharing the OTP. These steps were applicable to people who already had an existing mobile number.
Visit the nearest store of your telecom operator
Provide a copy of your Aadhar card that is self-attested
Submit the mobile number and Aadhaar card details correctly to the store executive
Use the re-verification application, a 4-digit OTP would then be generated and sent to your mobile number
Submit the OTP to the store executive and provide biometrics
Then after 24 hours, you would receive a confirmation SMS. Reply "Y" to complete the e-KYC process
Also, Read- UIDAI Address Change, How to update the address on Aadhar Card through Online/Offline and Post… Read More
Link Aadhar Card with Mobile Number by Using IVR
The Government of India to help all the telecom subscribers provided a single number for linking Aadhaar to SIM using interactive voice response (IVR) services. All the pre-paid, as well as post paid subscribers, could follow the below-mentioned steps to link Aadhaar with a phone number.
Dial the toll-free number 14546 from your mobile phone
Verify whether you are a resident of India or an NRI. Press 1 If you are a resident of India to reverify Aadhar
Enter your 12-digit Aadhaar number
Press 1 to confirm your Aadhar number
Then enter the mobile number registered with Aadhar to receive OTP
Provide your consent to allow the telecom operator to access your DOB, name, and photo from the UIDAI database
Then enter the OTP received
Press 1 to complete the process of re-verification.
How to Add your Mobile Number to your Aadhaar Card by Visiting an Aadhaar Enrolment Centre?
It is vital that you register the mobile number with the Aadhaar. Any online changes to the Aadhaar can be made only if the mobile number is registered. The procedure to add your mobile number to the Aadhaar is mentioned below:
Visit the nearest Aadhaar Seva Kendra. Ensure that you carry the Aadhaar Card when you visit the enrolment centre. Then you can find the nearest centre in Aadhaar Seva Kendra.
Request for the application form to update the mobile number. A charge of Rs.50 will be levied to change or add the mobile number.
Fill out the application form and submit it. Ensure that you enter the correct number.
You will receive a Unique Request Number (URN) once your request has been processed. Then you can check the status of the request by using the URN.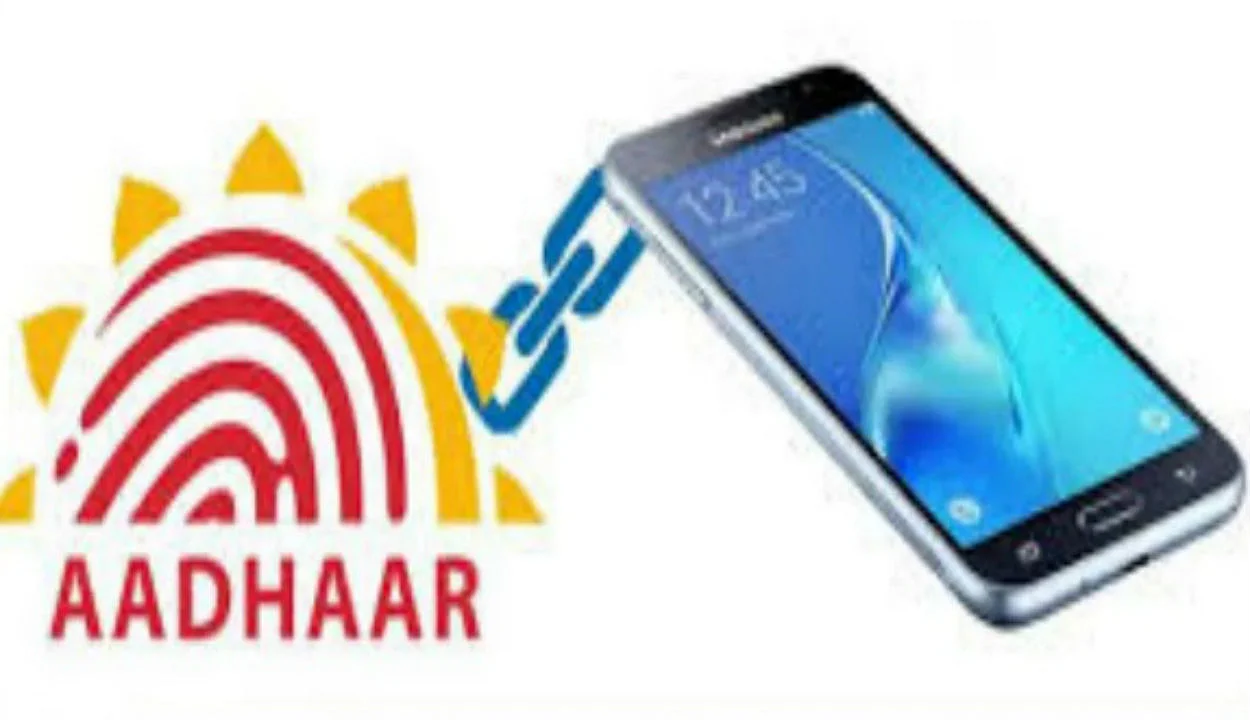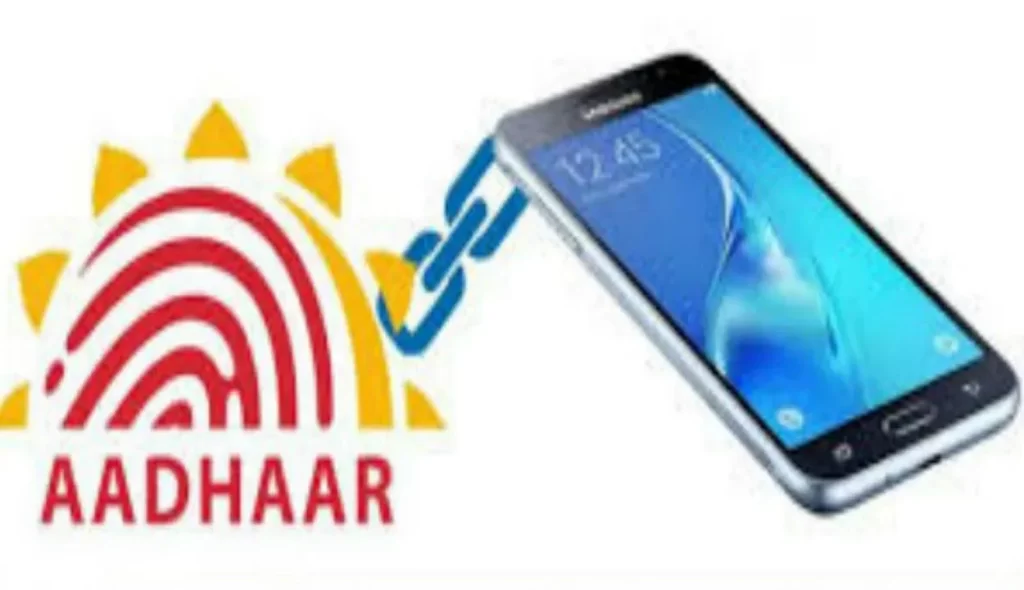 Useful Links:
NSP Scholarship Status, Online Mobile Location Tracker, MIT Full Form, Typing Test Portal, Indiapost Agent Login, Aadhar Card Online Apply, NSP Scholarship Status Check, way2sms.com New Account Open.
Documents Required to Link Mobile Number with Aadhar
No documents need to be provided to link the mobile number with the Aadhaar. However, you must carry the Aadhaar Card when you visit the Aadhaar Seva Kendra.
How to check the mobile number link with the Aadhaar card
"You can verify your email address and mobile number that has been declared at the time of enrolment or during the latest Aadhaar detail update," as per the UIDAI official website. In case, you are not sure about the mobile number which you have linked to your Aadhaar card, then follow the given below steps:
First, head to the official website of the Unique Identification Authority of India (UIDAI)
On the homepage, click on the "My Aadhaar" drop-down menu.
From the drop-down menu, head to the Aadhaar Services category and click on Verify Registered mobile or email id.
Now you have to enter your 12-digit Aadhaar number along with either your mobile number or email ID (if you want to check for your mobile number then enter the same).
Now you need to enter the Captcha code and click on Send OTP.
If the mobile number, which you have entered in the dialogue box is correct then you will see a pop-up message stating "The mobile you have entered is already verified with our records." This means your number is linked with the respective Aadhar Card, but in case then the mobile number is not linked with the card then it will show you a message suggesting that the mobile you have entered doesn't match with UIDAI records. So you won't be able to update your latest mobile number with your Aadhaar card online. Therefore, you need to visit your nearest Aadhaar card office and apply for correction manually.
How to find out which mobile number is linked with Aadhaar
Department of Telecommunications (DoT) has introduced Telecom Analytics for Fraud Management and Consumer Protection (TAFCOP) which allows users to find out which registered mobile number is linked with an Aadhaar card. Here's how it works:
First, you need to head to the TAFCOP portal.
Then enter your mobile number.
Now you need t click on the "Request OTP" tab.
Then enter the OTP number which you have received via text msg.
You can see all the numbers linked with your Aadhaar Card on the website.
From these numbers, you can block the ones which you don't use or no longer require.
Also, Read- Aadhar Card Online Apply, All the processes to Get E Aadhar, PVC Aadhar Card, FAQs… Read More
Importance Of Linking Mobile Number with Aadhar Card
However, the most important reason to link an Aadhaar card with a mobile number is to do online verification of ITR with a one-time password that arrives on your mobile phone. Additionally, you can update your details in the Aadhaar card database using a one-time password sent to your mobile phone.
For the safety of individuals and the security of our country, it is essential to verify and identify all mobile customers, which will help weed out mobile numbers being operated by fraudsters, money-launderers and criminals.
Hence it has been observed that many criminals and terrorists issue SIM cards in the name of fake and even genuine people without their knowledge and use them to commit crimes.
If each mobile number is verified and linked with Aadhaar, criminals and terrorists using mobiles can be easily identified and punished as per law. how to link mobile number with aadhar card
FAQs
What if my mobile number is not registered with my Aadhaar card?
In case you have lost/do not possess the mobile number anymore that is registered in Aadhaar, have to personally visit the nearest Aadhaar update centre for updation of your mobile number. So you cannot update your mobile number through post or online
Can I update my mobile number in aadhar online?
Individuals can now link mobile numbers to Aadhaar cards online via the self-service update portal (SSUP) without any hassle.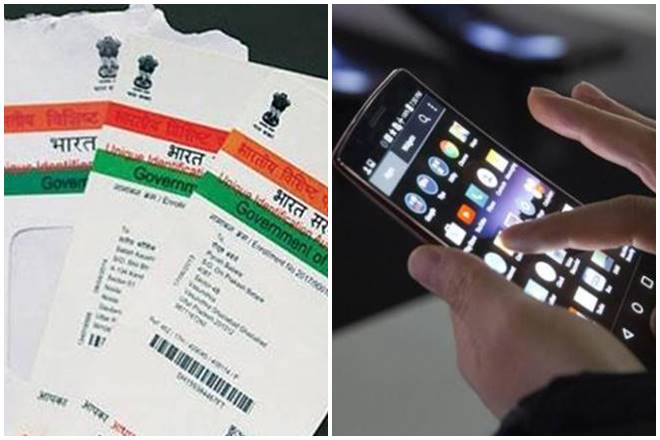 Also, Read- How to get Aadhar Card, Different Forms of Aadhar & their Features, FAQs… Read More
Is it compulsory to link mobile with Aadhar?
No, it is not mandatory to provide a mobile number or email for Aadhaar enrolment.
How many mobile no can be linked to Aadhar?
Notably, one citizen can issue only up to 9 mobile numbers connected to one Aadhaar card, as per rules issued by DoT. This portal is not only informative but also helpful as it helps in ensuring the safety of the citizens.
What are the benefits of linking mobile numbers with Aadhar?
Linking mobile numbers with Aadhaar helps in the identification of the user of the SIM card and helps in weeding out the mobile numbers being operated by fraudsters, money-launderers and criminals. aadhar card link with mobile number charges